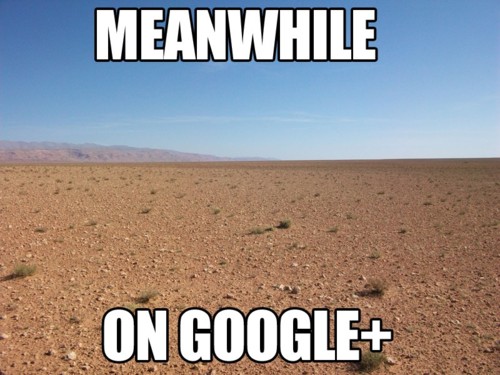 This is a guest blog post by Jane Smith, a Houston-based writer who blogs about the importance and difference a thorough employment background check can make. For more information feel free to contact her at janesmith161@gmail.com.
---
It's a question that seems to come up often now, over a year into the service's existence. It's a valid one too—there are so many social media tools and marketing services out there, you have to wonder how much you really need Google+ to maintain personal and professional contacts. You probably already use Twitter, LinkedIn, and even Facebook for the entirety of your online networking and socializing needs. Where can Google+ possibly fit in among those well-established services?
Of course the answer varies depending on who you talk to. Some people still haven't heard of Google+, others begrudgingly signed up because they were goaded into doing so from their Gmail account, and a relative few actually use the service as their go-to networking service.
Let me put this in a numerical perspective: Google+ has about 150 million active users, while Facebook boasts over 900 million. Facebook has had much more time to expand its reach, and its wild success the world over doesn't make for a very flattering comparison to Google+. A better comparison would be with Twitter, whose official data suggests around 120 million active users. While the number of actual Twitter accounts might be many times more than that figure, the fact of the matter is that only so many people actually use those Twitter accounts.
Which brings us to the original problem with Google+. Sure, millions of people might have the service for one reason or another, but do they actually use them? And if so, to what end? We can't be too clear about the answers as of now because Google hasn't been forthcoming with much of their data.
So what can you possibly to with Google+ to optimize your online professional network? From my own experience, I can only attest to one great strength that Google+ has over all similar networking tools.
The professional email supplement
In my experience, Google+ has proven to be more than a little helpful for organizing, categorizing, and discovering professional contacts via Gmail. The service is supposed to do much more than that, but in practice I've found it to be most useful insofar as it helps me sort out and expand my network of useful email addresses.
You might think that it's not enough that Google+ merely streamlines your email activity. Emailing is an underrated service nowadays, in the age where a tweet or a private message often takes its place. But emailing is still very much alive and critical to the business world, and Google has you covered on that score. Their service is much more business focused than people realize.
Google+ has a distinct maturity about it that I find missing in services like Twitter and Facebook, which cater to social and frivolous conversations far more than it does to conversations relating to business. The contacts I have Google+ are real people with verified names and professional ties. If you connect with someone over Google+, you can at least rest assured that they're really a person. There are no cutesy usernames or cryptic profile descriptions. A person's professional info on Google+ is out in the open for all to see, and that's nothing to laugh at. If you didn't know already, Google+ vets every user to ensure that they're not a spambot or an imposter posing under a pseudonym.
An uncertain future
Beyond the advantageous email services, Google+ will struggle when compared to its competitors. The service is still in its infancy, but Google really needs to reevaluate what they want out of Google+ if they want it to succeed on anything close to the scale of Facebook or even LinkedIn, a service that caters to a similar target audience.
What do you think about Google+? If you're signed up with the service, do you find yourself using it often? Let me know.