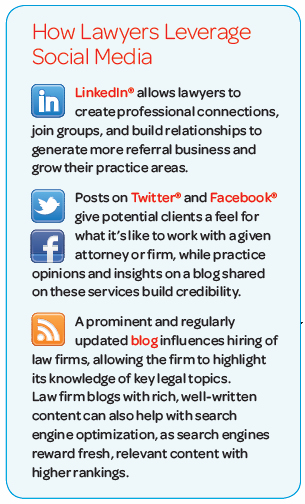 In a recent survey, the percentage of respondents from small law firms who say they measure social media success by the amount of new business it drives is nearly twice that of respondents from large law firms participating in the same survey.
That is according to "Use of Social Media in Legal Marketing," a recent survey of U.S. attorneys and law firm marketing decision-makers, performed by Vizibility® and LexisNexis®. Survey respondents represent firms of all sizes, from solo practitioners up to 500-plus attorney firm members listed on The American Lawyer's Am Law 100.
From determining how respondents measure the impact of social media on their business, to which channels they use more frequently than others, the survey provides interesting insights into social media trends within the legal profession.
LinkedIn, blogging lead social media pack for small law firms
As LinkedIn® is the leading social media channel for business professionals—161 million business owners, managers, executives and others, including lawyers, have profiles—it is no surprise that more respondents favored this channel. According to the Vizibility®/LexisNexis® survey, over 90 percent of law firms with five or fewer attorneys plan to use a professional social network such as LinkedIn.
Meanwhile, it makes sense that blogging came in a close second, as a firm's blog can serve as the central hub for social media activity—various tools can easily and automatically publish blog content to social media profiles once the content is posted. Moreover, a blog can be a successful platform to demonstrate knowledge and facilitate networking while also enriching the overall content of the firm's website.
Click to get the free download, Use of Social Media in Legal Marketing.