ALM Legal Intelligence published its annual Survey of Law Firm Economics, which found that average revenues at U.S. law firms declined more in 2011 than in any year since the survey began tracking that metric in 1985.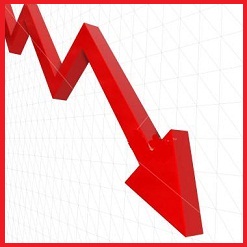 After falling in 2008 and 2009, law firm revenue per lawyer (RPL) rebounded to its highest level ever in 2010. Last year, RPL fell back to earth and declined by an average of 4.2 percent nationwide (from $451,000 in 2010 to $432,000 in 2011). Despite that large year-over-year drop, however, the overall average RPL last year is still the second-highest figure ever recorded by the survey.
Firms on the larger end of the survey scale took some of the hardest revenue hits. Those with 76-150 lawyers saw revenue per lawyer decline 10 percent (from $474,000 to $426,000) and for firms of 150 lawyers or more, the drop was 9 percent (from $505,000 to $460,000). In fact, RPL declined in four of the six law firm size categories, with the exceptions being firms in the 10-24 lawyer (increased 4 percent, from $355,000 to $370,000) and 41-75 lawyer (increased 7 percent, from $395,000 to $423,000) niches.
The survey, conducted by ALM Legal Intelligence in association with The National Law Journal, is available online now at www.almlegalintel.com/Surveys/SLFE. The results are also reported in the August 6, 2012, issue of The National Law Journal.
"Law firms, particularly midsize and smaller players, continued to face a challenging revenue picture during the last year, but they appear to have done a better job of managing expenses to keep profitability and partner compensation high," writes David Brown, editor in chief ofThe National Law Journal. "Despite the mixed results, firms still see plenty of sunlight ahead. We asked a series of questions about how firms view the current state of the business of law. Seventy-six percent of those surveyed said they were optimistic about the year to come and, with minor variations, the optimism was shared among firms of all sizes."
Other noteworthy findings of the survey included the following:
No sign of merger fever – although the economy is still uncertain and the law firm business model has been challenged, 58 percent of respondents said their firm is not interested in a merger;

Modest growth expected – four in 10 law firms (41 percent) expect their profits per partner to grow by 5 percent or less in 2012 and one in three (33 percent) project their profitability will be flat;

Moderate rate increases planned – the vast majority of respondents (70 percent) plan to increase their billing rates by 5 percent or less in 2012, 20 percent plan to hold rates flat, 9 percent plan to increase rates by more than 5 percent and 1 percent plan to decrease rates;

Litigation is the hot spot – when asked which practice area they expected to achieve the most revenue growth in 2012, 43 percent named Litigation, far and away the number-one response (Corporate was second, named by 24 percent); and

Alternative fee arrangements (AFAs) are not taking off – for the vast majority of U.S. law firms, AFAs still represent a small percentage of billings, with 67 percent of respondents indicating that 0-10 percent of their firm's billings were valued by an AFA and another 23 percent pegging that share at 11-25 percent of total billings, roughly the same rate of AFA usage we saw in last year's edition.
First published in 1972, the Survey of Law Firm Economics is one of the most complete, accurate and up-to-date set of economic statistics and financial data available about the legal profession. This year's survey contains information about nearly 10,000 lawyers from 198 U.S. law firms. Data is presented nationally and by firm size, geographic location, practice area specialty, population area size, gender, year admitted to the bar, and years of experience.