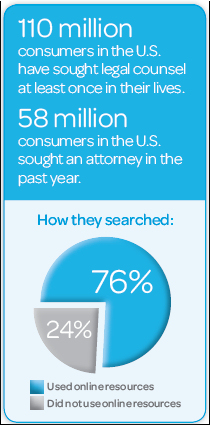 Hot off the press: download your free copy of the latest research "How Today's Consumers Really Search for an Attorney" just released by LexisNexis.
This dramatic new research presents solid information on how consumers' minds work when they search for and select a lawyer.
The key takeaway is that more than three-quarters of adults who have looked to hire an attorney in the past year—76 percent—used online resources at some point in the process.
Other highlights of the new data:
Potential clients start by researching their legal issue (not seeing a particular lawyer). Therefore it is important to be found early in a consumer's search for a lawyer.
Facebook is the top social medium for consumers to find a lawyer. Social media is key in law firm marketing, because everybody's friends, colleagues and co-workers are one social site or another.
One-third of clients started their search in an online legal forum, like Ask A Lawyer. Online legal advice forums are great marketing tools. They are the second-most popular online option at this phase, just behind search engines.
Consumers expect to see a rating of the business they are considering -- like Yelp for restaurants or TripAdvisor for hotels. This means that online directories that have client ratings and peer reviews are important in law firm marketing. Among those who sought an attorney in the past year, 31 percent used online directories.
I just presented the research with my esteemed colleague Rocco Impreveduto in a webinar. You can listen to the entire program for free by visiting http://bit.ly/QxPuML