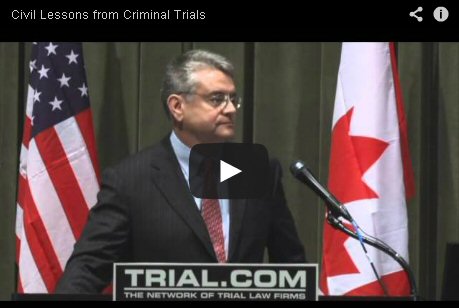 The Network of Trial Law Firms has updated its YouTube-powered TRIAL.COM online video presentations at www.TRIAL.COM/cle to include the presentations made in August at its annual "Litigation Management in a New York Minute."
Currently about 120 videos are online and more will be added shortly. Viewers can download materials and slides from the conference while watching the videos. No CLE credit is offered, but the service permits lawyers to fulfill some of the CLE requirements.
The Network of Trial Law Firms has created dozens of videos in which defense trial lawyers from its 24 member law firms offer practical advice on managing the trial and litigation problems with which in-house counsel grapple daily.
In addition, the Network offers 245 podcasts at www.trial.com/podcasts/index.htm on everything from Anti-Counterfeiting Campaigns to Workplace Product Liability Claims.
"Education, coupled with the practical trial and litigation examples that we provide, is the best way to improve legal representation and achieve great trial and litigation results for the clients of our member firms," said Jim Miller, a partner with Akerman in MIami, who is the chairman of the Network. "We believe that CLE should always be free of charge."
Currently available programs cover keys to winning a case, relationships with in-house counsel, corporate compliance and ethics.
New videos will be recorded live at the Network's September 20, 2013, Financial Services CLE SuperCourse in New York and the November 7-10, 2013 Litigation Management conference in Laguna Beach, CA.

The Network of Trial Law Firms, Inc. is a not-for-profit membership association producing cutting-edge trial and litigation continuing legal education. The goal is to provide clients with high quality trial and litigation representation through advances in education, technology, business and science. The Network's CLE disseminates information on trial and litigation techniques free online without restriction.
For further information contact Ellis R. Mirsky, Executive Director and General Counsel at 914-332-4400.