In terms of billed hourly rates paid by clients, the average hourly billing rate of a partner in a U.S. law firm is $381 per hour, according to the Enterprise Legal Management Trends Report published by LexisNexis.
Of course, a partner's practice area has a dramatic impact on the hourly billing rate. For example, advice and counsel for mergers and acquisitions commands a higher-than-average billing rate of $630 (see chart below).
What's interesting is that the research shows an increase in rates starting in 2010. The research says that partners rates increased 2.7% over the previous year, on top of an increase of 2.5% during the previous 12 month period.

The findings run counter to other reports about clients taking discounts, legal work being commoditized, pressure from overseas legal process outsourcing, and a decline in demand for legal services. Reports this year from Citi Hildebrandt and Altman Weil painted a grim portrait of the profession.
"As an amalgam of different law firm sizes, practice areas and locations, it's a reasonable indicator of how hourly rates are trending. Hourly rates continue to climb, even if growth has slowed. However, these growth rates are well below the high single-digit growth the industry garnered during peak periods prior to 2008," the LexisNexis report states.
The $381 hourly rate is mathematical calculation for a wide range, where partner fees range from $170/hour for insurance defense work, to $392 to employment and labor, and $527 for IP and trademark work.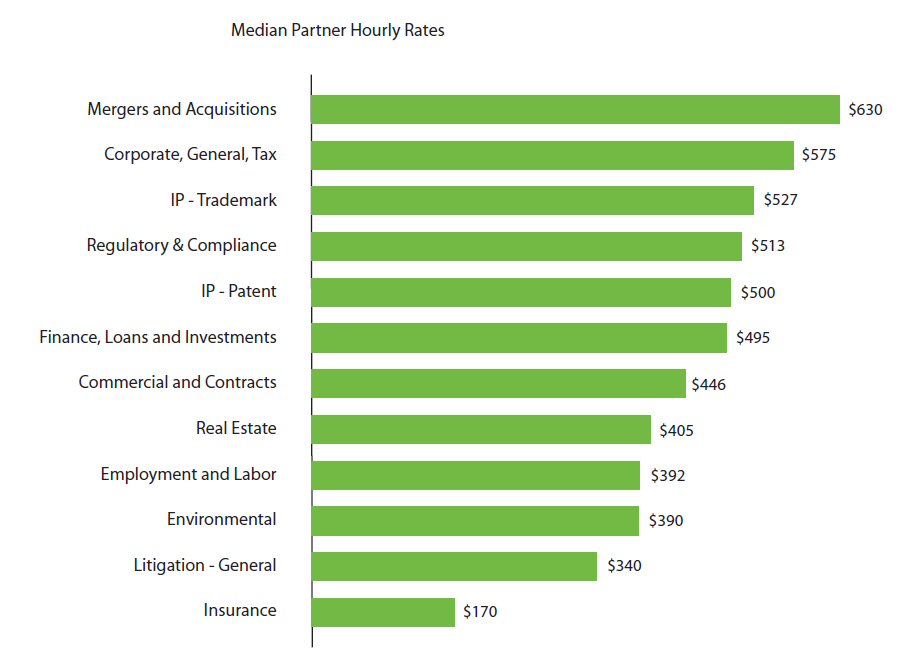 The report adds that alternative fee arrangements were used in 10% of matters and 6% of billings in the past year. They are most commonly found in three practice areas: finance, loans and investments; employment and labor; and litigation.
---

Larry Bodine is a journalist, lawyer and business development advisor to law firms. He is currently pursuing a project to publish legal news for consumers in newspapers, TV stations and web sites. For more information, you can reach him at 520.577.9759 and larrybodine.com.
For a related story, see New Statistics Illustrate the Decline of Biglaw