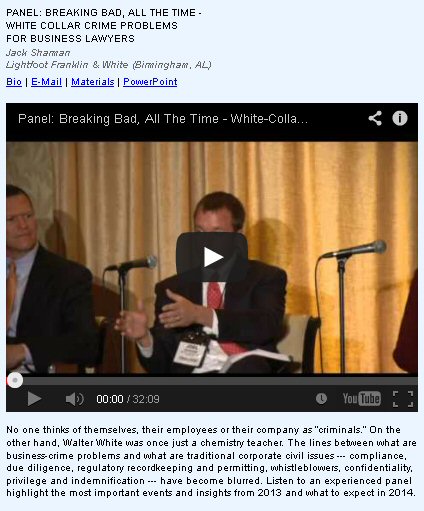 Lawyers can learn a lot about effectively marketing their capabilities from the new videos just published online by the Network of Trial Law Firms. A dozen nicely-edited videos, targeted for corporate clients, are now on the Network's free CLE page.
Each one includes a link to the speakers' PowerPoints, written materials, bio and email address. I wish organizers of other lawyer conferences were so efficient. I've attended too many other seminars where the speakers wrote their slides at the last minute and the organizers never bothered to make them available.
The live presentations were made just 10 days ago at the Network meeting at the Montage Resort in Laguna Beach, which was attended by 75 trial lawyers and 75 corporate clients. As you'll see, each presentation is brought home within 20 minutes, the Network's signature format.
It's clear that Video is the Killer App to Get Found in Google. Every month, 40 billion videos are streamed in the U.S. and each month 75 million people watch video, according to Uberflip. What better way for a lawyers to demonstrate their expertise than by recording a polished presentation.
The selection includes:
THE DAUBERT CONUNDRUM, by Jon Barton, Sandberg Phoenix & von Gontard (St. Louis, MO)
LEGAL HERPETOLOGY 101, by Kevin Schiferl, Frost Brown Todd (Indianapolis, IN)
CALLING THE EYEWITNESS - THE ADVANTAGE OF BEING THERE, by Robert Squire, Akerman (Miami, FL)
PANEL: BREAKING BAD, ALL THE TIME - WHITE COLLAR CRIME PROBLEMS FOR BUSINESS LAWYERS, by Jack Sharman, Lightfoot Franklin & White (Birmingham, AL)
LOCATION, LOCATION, LOCATION, by Nicole Bearce, Lowenstein Sandler (Roseland, NJ)
ISSUES IN INTERNAL INVESTIGATIONS, Bill Cronin, Corr Cronin (Seattle, WA)
MANAGING YOUR OWN EXPERT IN A MEGA-DOCUMENT CASE, by Lee Davis, Sutherland Asbill & Brennan (Atlanta, GA)
CYBER SECURITY: UNDERSTANDING THE RISK, by Janet Nalbandyan, Dykema (Los Angeles, CA)
THE WORK OF THE INNOCENCE PROJECT, by David Schultz, Maslon Edleman Borman & Brand (Minneapolis, MN)
BATTLING INFORMATION INFLATION WITH PREDICTIVE CODING, by Tom Myrick, Moore & Van Allen (Charlotte, NC)
MANAGING THE MILLENNIAL JUROR, by Jennifer Mountcastle, Thompson Hine (Columbus, OH)
Each time a general counsel plays the video, it's like having a personal audition in their office.