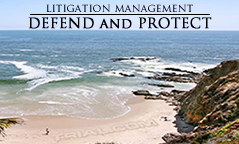 It's rare to see business development and CLE combined perfectly, and the Network of Trial Law Firms has achieved it as 75 trial lawyers and 75 corporate clients convene today and tomorrow at the Montage Resort in Laguna Beach.
Focusing on trial and litigation, the Network is a not-for-profit corporation with 6,000 attorneys in 23 independent trial law firms practicing in more than 135 offices. It's the 10th largest lawyer network – see www.Trial.com.
Today began with CLE presentations by Network lawyers on Daubert motions, eyewitness testimony and internal investigation plus two client panel discussions on white collar crime and class actions. What is impressive is that the network actually makes CLE interesting, by allotting the speakers 20 minutes to make their point, and by making their PowerPoints sparkle with video and dramatic graphics.
All presentations are videotaped and uploaded to the Network's YouTube-powered TRIAL.COM online video presentations at www.TRIAL.COM/cle
It's a tech-savvy group. Attendees can tweet their thoughts using #trialcom, and join in any of 14 Trial Area Groups on LinkedIn, ranging from banking litigation to transportation law.
The genius of the conference is that lawyers invite clients and their spouses to join them at a first-class resort on the Pacific Ocean, where there are nature walks, golf and shopping trips. It offers a unique setting to deepen client relationships – which is the heart of business development. The in-house clients like it too because they can meet skilled trial lawyers from across the country.
Everything, especially the food, is first-class. The Network meeting makes bar association CLEs with stale coffee and starchy snacks seem grim in comparison. There are dozens of networks lawyers can belong to, but if you're trying to build your practice you should ask yourself the following questions.
Are the meetings so desirable that clients ask to be invited? Do the meetings include lots of in-house corporate counsel, or just other competing lawyers? Do you get a chance to demonstrate your expertise by making a presentation to the attendees? And most importantly: do you return from the meeting with new business?