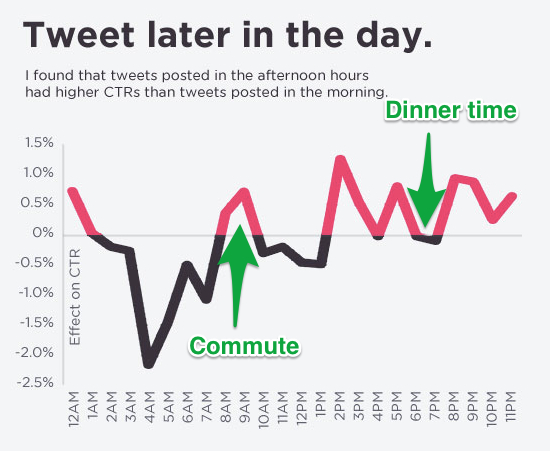 Buffer, a social media sharing tool, published an illustrated 1,800-word article on using timing to maximize your impact on Twitter, Facebook, email and blogging. It's a welter of information, some of it conflicting, but here are the high points:
Twitter: if you are tweeting from your company account, your tweets will get the highest click through rates on Friday, Saturday and Sunday. You'll get the most click throughs during commuting hours of 7-10 AM, and also from 4-5 PM before dinner, and 7-11 PM after dinner. Regardless of the day, you'll get the most retweets around 5 PM.

Email: Consumer-based marketing emails are best sent early in the morning, from 6-10 AM. Click throughs pick up again after dinner, from 7-10 PM. Don't time emails to be sent in the middle of the night, because it's a dead zone. One survey found that Thursday is the best day for both open rates and click throughs.
Blogging: 70% of people say they read blogs in the morning -- especially 11 AM -- with Monday being the highest traffic days for an average blog. However, Thursday is the best day for readers to share you blog posts on social media.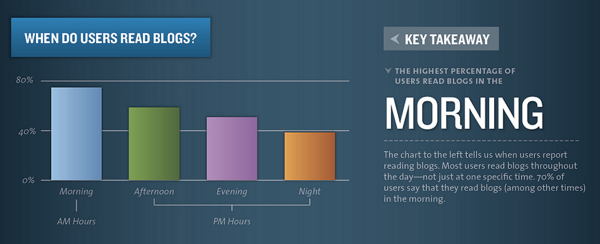 For those who still care about Facebook: Engagement rates are higher on Thursdays and Friday, because "the less people want to be a work, the more they are on Facebook." The early afternoon is a solid time to post, but not anytime after dinner.
I'm skeptical of these time-of-day studies, because a good story or an important news event will be read regardless of when it happens. But there's no harm in experimenting with the timing of your social media messages to see which works best for you.