In 2014, the high-growth, high-rate law practices in which corporate clients will hire law firms are IP litigation, class actions, M&A, regulatory matters and tax issues (see chart below), according to the Market Outlook 2014 webinar, broadcast today by BTI Consulting.
Michael Rynowecer, President and Founder of BTI outlined these points from the BTI Market Outlook and Client Service Review 2014:
The US legal market exceeds $100 billion, of which $60 billion is spent on outside law firms.
Corporations will have more litigation work in 2014, but most of it will be handled in-house. There is a $6 billion increase in the amount of legal work now handled in-house when compared with two years ago.
Only 650 law firms handle legal work for the Fortune 1000.
When seeking a law firm, 80% of in-house counsel will confer with a peer and hire the firm that is recommended first.
However only 31.4% of clients are truly satisfied with their leading law firm. The typical AmLaw 100 law firm has 11% of it's clients at risk.
Law firms are spending more on marketing and business development, ranging from 2.8% to 2.4% of gross revenues (including the salaries of marketing staff).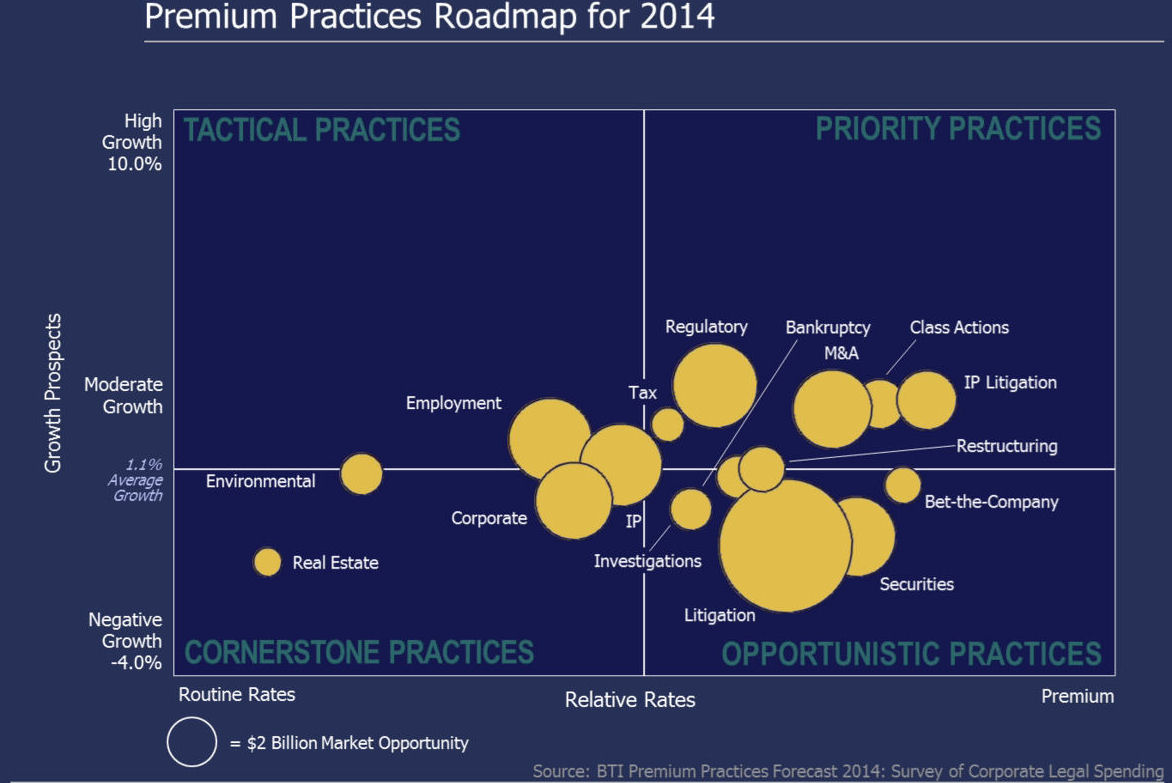 Business development opportunities
Average Marketing Budgets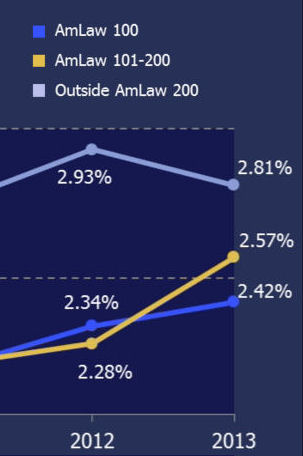 Rynowecer offered several business development tips:
Law firms can make themselves valuable by training the new in-house lawyers who will be handling the additional work.
Form a triage team with clients to jointly asses new matters as they come in, and meet monthly or biweekly. BTI says that corporations plan to settle 40% of all their litigation.
Offer to sit on clients' new product development committees to help spot IP opportunities.
Swarm clients with online value-added tools such as checklists, guidelines and self-assessments.
Key law firm marketing activities that will result in being recommended first include demonstrating an understanding the client's business, providing value for the dollar, and showing a commitment to help, that is, showing an interest in solving a client's problems rather than finding ways to bill hours.
Successful law firms develop customized presentations for clients and send partners to brief clients in a 2-3 hour session.
The best opportunities for new business arise with global organizations operating in the US and mid-market companies that wish to expand into other countries. "Global companies show an especially strong interest in using both mid-sized as well as larger firms in Litigation, Employment, IP, IP Litigation, Regulatory, Corporate and small- and mid-sized M&A," Rynowecer said.
"Marketing and business development skills will be essential in terms of long term growth for law firms. In this market you are either a predator or prey, there is absolutely nothing in between," he said.