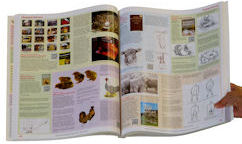 Defying conventional wisdom, a founding editor at Wired magazine has pinpointed the formula for succeeding with a print publication in the face competing online alternatives.
"There is something about having that large expanse of real estate in your lap, something about the [print] format, that is extremely satisfying," says Kevin Kelly. "Having many different things you may be interested in on a page, as opposed to a single thing surrounded by ads as it is on the web, leads to the formation of different connections and leads to a different experience," he tells the New York Times.
The Internet has demolished the business models of many print publications, ranging from encyclopedias, to newspapers to magazines. According to the NYT, advertising pages for weekly magazines fell 2% from 2012 to 2013, and biweeklies saw a 5.3% decline. More than half the magazines published fewer issues last year.
Yet the print version of the website Cool Tools sold out its first printing immediately, a second printing will go on sale next week and a larger third printing is underway.
Here is the secret to success for a print publication:
It is exceptionally-edited. Like the pages of Wired magazine, there are many bite-sized nuggets of interesting information to choose from on the pages. Each one contains a perfectly told story that is hewn to fit its space exactly.There are no walls of text, run-on sentences or sloppy grammar. "Americans lead poorly edited lives," the NYT notes, and it is refreshing to see organized attention to detail.
It is highly-designed. Each page features color and black-and-white photos, line drawings and tint blocks of differing sizes. Palettes changes from page to page. Graphic elements are juxtaposed. There is plenty for the cones in your eyes to enjoy.
The combined effect is to make you feel good. As the NYT says of Cool Tools,

"Having it in my hands made me happy."

It's like savoring a multi-part dessert which you explore in minute detail. The feeling is like nestling in with a good read for as long as the coziness can hold your attention. It captures your imagination like a nice dream that makes you want to stay in bed Sunday morning.
It can be shared. You can give a person a book, but you can't do that with an e-book on a Kindle. Sharing means you get to talk about what you've read and enjoy comparing notes. Nothing beats getting a new insight into something you just read.
It is practical. People like reading something that can be put to use immediately in their own lives. "Practical" can involve showing you how to make something, demonstrating a method to get something done or giving you a tip on how to live healthier. I'm not discounting reading for entertainment, because nothing is better than doing something for fun. But a practical article will cause you to get a highlighter and start underlining sentences.
When I read that "print is dead" I think only of The Onion's article saying, "the declining medium passed away early Thursday morning. The influential means of communication was 1,803."