If you're wondering why marketers seem intent on e-mailing you more and more, there's a simple explanation: it works, says the latest McKinsey research.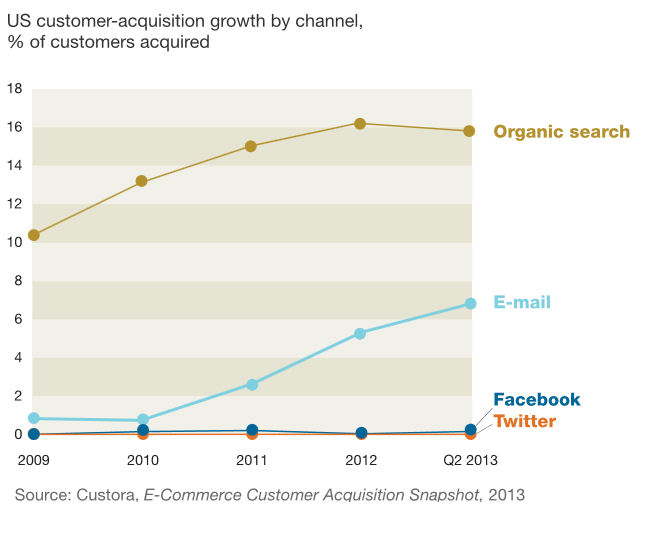 The report finds that E-mail remains a significantly more effective way to acquire customers than social media—nearly 40 times that of Facebook and Twitter combined, as shown in the graphic. That's because 91 percent of all US consumers still use e-mail daily, according to ExactTarget.
The rate at which e-mails prompt purchases is not only estimated to be at least three times that of social media, but the average order value is also 17 percent higher, accoding to Emarketer.
McKinsey offers three tips:
1. Make the landing page special. "Customized landing pages—which send the user directly to the item or offer featured in the e-mail—can increase conversion rates by more than 25 percent. And don't forget mobile. Nearly 45 percent of all marketing e-mails today are opened on a mobile device. Yet many marketers fail to optimize landing pages for the platform," the report says.
2. Learn about your customer. 'The best marketing organizations view every e-mail as an opportunity to learn more about their consumer. They define clear learning objectives for each campaign, capture data, and share it within the marketing group and the rest of the organization."
3. Personalize messages. "The best e-mails feel personal—and they are. A targeting engine must be built to guide the right message to the right person. Although it's a lot of work, it drives real returns: one financial institution increased revenue from target segments by 20 percent by using life-cycle events to trigger personalized e-mails to existing customers."