One of the elements demonstrating that the legal profession has changed permanently in the last five years is that the 100 top-grossing US law firms earned approximately $7 billion from alternative fee arrangements (AFAs), according to a new white paper "The Evolution of the Legal Profession."
Written by Ari Kaplan, Principal of Ari Kaplan Advisors, the paper is based on interviews with 30 lawyers, in-house counsel, law professors and other legal experts. "By relying more heavily on alternative billing arrangements than we ever have before, we were able to bring in a lot more work," said Crowell & Moring's chairman, Kent Gardiner. Arent Fox, Akin Gump and Skadden Arps also derived income from unconventional billing.
According to Fulbright's 2011 Litigation Trends Survey Report, 52% of US companies are using AFAs. Companies with bigger gross revenues use them to a greater extent. Lower costs are the overwhelming reason for using AFAs, followed by their predictability.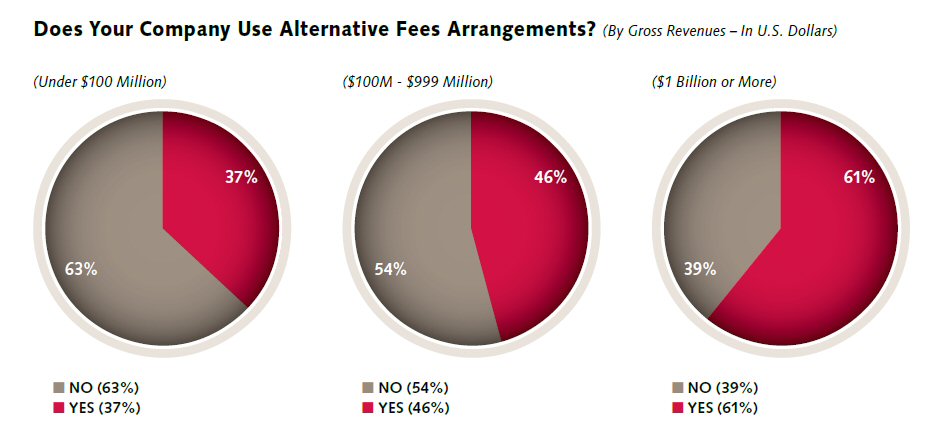 Law firms and corporations are still not focusing enough attention on creating efficiencies in internal processes, according to Beth Anisman, a consultant with B&Co. and former Global Chief Administrative Officer for Legal of Lehman Brothers.
Some efficiencies, such as software that reviews e-discovery, have actually eliminated the need for thousands of junior associates, who have been laid off.
To maximize their value, lawyers need to focus on prior work produce and experience as opposed to solely billing hours, according to Jeffrey W. Carr, General Counsel of FMC Technologies.
There's no looking back, according to the report. 74% of the respondents agreed that the changes will be permanent.