From the LawMarketing Portal:
After Melanie Green joined Baker & Daniels and the Director of Business Development & Marketing in Indianapolis, IN, the most frequent advice she was given when inquiring about how to achieve success was to "keep her hands off the logo." As a newcomer to the firm with a lot to learn, she listened to that advice...well, for the first year and a half that is.
But everything changed when the firm committed to be a founding partner of Lucas Oil Stadium (host of the 2012 Super Bowl). Through that partnership, the firm's visual identity was about to be featured in a first-class venue reaching local, national and international audiences.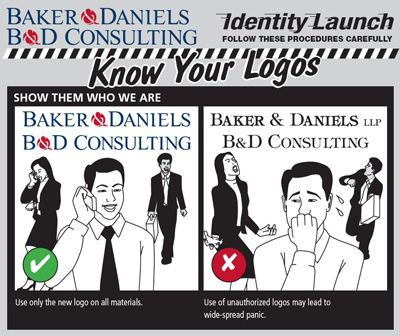 So despite the advice given, the in-house team set out with a mission to achieve a successful identity launch. Baker & Daniels is a 370-lawyer firm with seven offices across Indiana, Chicago, Washington, DC and Beijing -- and a lot of skeptics.
With a clear outline of the task at hand and awareness of the obstacles they faced, the team elected to theme the initiative with a comedic touch. In a brainstorming session, the team got "on board" with a 70's-styled airline theme titled "Flight 317" - indicating the launch date of March 17, 2008, and also the Indianapolis telephone area code. (For the Irish, of course "luck" played into some of the strategy development!)
For the rest of the story, visit the LawMarketing Portal at http://www.lawmarketing.com/pages/articles.asp?Action=Article&ArticleCategoryID=7&ArticleID=865