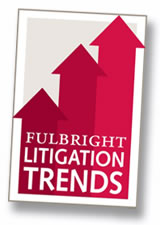 Businesses in the United States initiated and faced slightly less litigation in 2011 than in 2010. But regulatory actions and internal investigations are climbing, according to the 2011 Fulbright Litigation Trends Survey.
As the financial crisis began to reach its fever pitch in 2008, litigation spending climbed with it: in-house lawyers reported a median spend the following year that reached $1.6 million at U.S. companies. In 2010, spending fell to a median of $1 million in the U.S. However, spending has risen this year, with U.S. companies reporting a median spend of $1.4 million.
E-discovery tops the budget list, with nearly one-fifth of all respondents—and one-quarter of large-caps—expecting budget increases in that area. While respondents, as they have in years past, are planning for budget increases in labor and employment, contracts, and regulatory litigation, a new area of budget increases surfaced in this year's report: intellectual property, specifically patents. While 16% of U.S. respondents are increasing intellectual property budgets, the retail and technology sectors are particularly prone to do so—38% of retail and 30% of tech respondents expect to budget more for intellectual property in the year ahead.
Corporate counsel want to keep costs low, but they also want to keep them predictable. Last year, the percentage of respondents who reported using alternative fee arrangements for at least some of their work reached a majority—51%. This year, the number jumped again, to 62%. The trend is expected to continue: 44% of respondents this year predict a rise in alternative fee arrangements during the next 12 months compared to 37% of respondents last year who predicted an increase.
Looking ahead, 91% of all respondents expect the number of internal investigations involving their companies to increase or stay the same, while 90% of those surveyed expect the number of regulatory proceedings their companies face will increase or remain the same.
For more than one-quarter of all respondents, regulatory concerns are high on the radar when it comes to legal disputes. That is especially the case for large-caps, one-third of which cite them as a main concern versus only one-fifth of small-caps.
Whistleblowers remain a concern going into 2012, with one-quarter of respondents anticipating an increase in the number of claims or lawsuits brought by whistleblowers within their industries in the coming year.
More respondents this year answered "yes" when asked whether their organizations have been more likely to be the subject of a whistleblower allegation in the past three years. Overall, 22% of respondents compared to 19% last year said their organizations were subjected to a whistleblower allegation.
You can download a copy of the report here. The survey is based on responses from 405 in-house counsel in the US and UK.