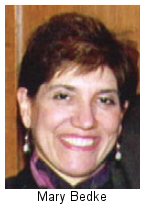 Barnes & Thornburg has cooked up a new way to win new business from clients: it published a 318-page cookbook composed of recipes from their cuisine loving lawyers. Entitled "Great Tastes of Law," the book sells for $16 and all the proceeds go to charity. Mmmmm good.
Applesauce Oatmeal Muffins immediately caught my eye, as did the entire sections devoted to desserts, and cookies & candy. I could live on a diet of ice cream and funnel cakes, did I ever tell you?
Director of Business Development Mary Bedke said that the recipe book also has separate sections on appetizers & beverages, soups & salads, vegetables & side dishes, main dishes, bread & rolls, and "This & That."
Each recipe is signed by the author, and lists their office location. The cookbook puts a nice human face on a law firm that has 450 attorneys in 7 offices in Chicago, Indiana, Michigan and DC.
The best way to a client's heart is through their stomach.