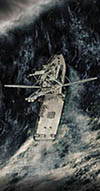 Patrick J. Lamb says law firms are in the "perfect storm": clients are angry at law firms and want to cut their spending for outside legal services.
I call it a recession. We're in one already, but the slow-moving National Bureau of Economic Research won't announce it for another nine months. That's why PBDI is presenting the webinar Business Development in a Down Market at noon (Central time) on February 26. Don't miss it or you'll wind up like the little boat in the giant wave from the movie "The Perfect Storm."
Here's how Patrick sees it:
Last August, Gerry Riskin predicted bad times were ahead for the profession, using the terms doom and gloom. "He looks like an awfully good soothsayer," Patrick says.
Citibank's Law Firm Group is predicting hard times. "It sent chills down my spine. 2008 is not likely to be a year lawyers look back at fondly," Patrick writes.
Clients are the ones being clobbered by the bad economy, and they're the ones who want to "drive up productivity without increasing legal spend... many clients will face CEO demands to dramatically lower legal spend."
"You know the old saying that firms are never fired, they just aren't hired for new matters? If the Perfect Storm develops, 2008 could turn out to be the year that the old saying was put to rest and firings became prevalent."