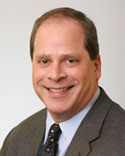 Ed Schechter, who built of Duane Morris from an unheard of middling firm in Philadelphia to the 25-office, 700- lawyer powerhouse it is today, resigned, ending his eight-year tenure as chief marketing officer at Duane Morris.
The handwriting was on the wall when regime change occurred, and Shelly Bonovitz stepped down as firm Chairman in 2008. Sources tell the Legal Intelligencer that the firm may have forced Schechter's hand.
Under Ed's leadership, Duane Morris Marketing Program was Ranked No. 1 among the Top 50 Law Firms in Marketing and Communications. Additionally, he was recognized as "Marketing Director of the Year" in the 2007 Hubbard One Excellence in Legal Marketing Awards. See
http://www.lawmarketing.com/pages/articles.asp?Action=Article&ArticleID=581.
Schechter told the paper he had been thinking about resigning for a while, and that he felt he had nothing left to accomplish at Duane Morris. The firm didn't have a CMO before it hired Schechter eight years ago, and he built up the marketing department basically from scratch.
There were two obvious changes at Duane Morris that might have pushed Schechter out, but he and the firm denied that either played a role in his departure. The firm laid off several marketing staffers in August 2008, a few months after John Soroko succeeded Sheldon Bonovitz as the firm's chair; Bonovitz was a marketing visionary.
Soroko says the firm plans to fill Schechter's position but that it will take "great care" in doing so.
From Ed's bio:
Mr. Schechter brings to Duane Morris more than 25 years of marketing and sales experience, including 15 years in professional services. He has experience implementing new branding, media relations, client relationship management (CRM), and client development programs in addition to launching new web sites.
Mr. Schechter has guest lectured at Harvard Business School and has been published nationally on issues of law firm business development and technology.
At Andersen, Mr. Schechter led the development of their global marketing and sales best practices initiative. He has managed international advertising account relationships with Ralph Lauren and Chanel, and he has implemented national sales and marketing programs with IBM and ComputerLand in addition to A.T. Kearney/EDS.
Mr. Schechter earned a master's degree in management from the Kellogg Graduate School of Management - Executive Program, Northwestern University and a bachelor's degree in economics from Franklin and Marshall College. He is a former board member of Sales and Marketing Executives.