Goulston & Storrs, a 185-lawyer firm headquartered in Boston, launched of its premiere iPhone App. The G&S App offers a convenient way for clients to gather customized information on the most current business topics, directly from an iPhone.
Theresa Bomba, Associate Director of Marketing, remarked, "There are approximately 50 million iPhones currently in use, and with the new launch of the iPhone 4, analysts estimate there will be 100 million iPhone users by the end of 2011. This is an ideal opportunity for us to communicate on a platform which our clients are utilizing. The G&S App will provide meaningful, timely information in a format people prefer."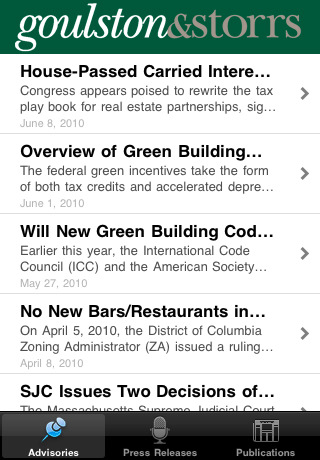 Having worked with the firm I can say that Goulston & Storrs is a very client-centered firm. They really 'speak the language of the customer,' communicating with clients via podcasts, client case studies, an online concierge, subscriptions to a wide variety of information – and now an iPhone App. It shows that the firm is not only tech-savvy, but also easy to talk to.
To download the free G&S App, go to the App Store on your iPhone, Keyword: Goulston.
Located in Boston, New York, Washington D.C. and Beijing, Goulston & Storrs is recognized for its quality work and unique service model across multiple service areas.
The firm is famous for its clever award-winning marketing activities, including a Jeopardy game for in-house counsel, its "Gateway to China" campaign for mid-market firms seeking to do business in China, and its creation of a resource center on Legal OnRamp avout the attorney-client privilege.