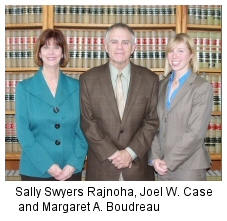 You'll recall that a three-lawyer St. Louis firm won the $50,000 LexisNexis Ultimate Law Firm Marketing Makeover Contest one month ago. I phoned up lawyers Sally Rajnoha and Meg Boudreau to check on their progress. There's no change on their website yet, but they've been quite busy.
"They were quick about getting on it, and LexisNexis contacted us on Tuesday after the Sunday night contest award dinner. I held up production because I went out to a ski vacation," Meg said. She writes the firm blog.
LexisNexis sent a video crew to Case, Rajnoha & Boudreau, and they spent two hours with Sally, recording material for a combined PI and criminal law website, and a separate, more casual family law site. "I said things about how our law firm stands out, like we're compassionate, we respond quickly, we give personal attention. I could have gone on for a while," Sally said. One crew member wrote her a 30-second commercial, which she said she'll memorize. (Good marketing!)
Meg introduced herself and the firm for the camera. "My bit was easy, I just did three videos. They were in Sally's office for a couple of hours!" Meg said.
They've got a draft of all the content for the new site, a new logo, and new website colors (several shades of blue and lighter green) - so there's plenty to review. Meanwhile, Sally and senior partner Joel W. Case are circulating review documents so they can get their AV ratings. "Joel and I love law practice. I've been practicing 18 years, and Joel for 36 years," she said.
"I'm having a really good feeling about this. LexisNexis is very attentive to us. They want it to get it right. They're in constant contact with us, running things by use and make sure we approve," Sally said.