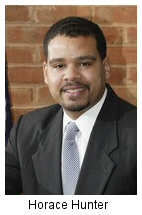 A disciplinary committee of the Virginia State Bar on Tuesday ruled that a Richmond, VA, lawyer violated a rule requiring a lawyer to get a client's permission before blogging about their legal cases.
The committee said that Horace Frazier Hunter violated rules by disclosing detrimental or embarrassing information about clients without their consent. He received a public admonition and was told take corrective action within 30 days.
"Although I adamantly disagree with the panel's decision, I do respect it," said Hunter at the conclusion of the nine-hour hearing. The public admonition was the lowest sanction he could have received.
He said later that he will appeal and that in the meantime he will likely comply with the 30-day order to remove offending information from his blog and post a disclaimer.
But on Tuesday, Renu Brennan, assistant bar counsel, told the eight-member committee that "the First Amendment has no bearing on this violation. … It doesn't impact journalists, it doesn't impact bloggers, it doesn't impact the general public."
"The bar does not seek to ban his speech," she said. It simply wants a disclaimer putting the blog information in proper perspective. The intent, she said, is to protect the public from deception.
Brennan said his disclosure of information about his clients on his website and the ensuing bar's disciplinary proceedings is not analogous to censorship of the press covering criminal trials.
Can newspapers report on criminal trials? she asked. "Yes, absolutely, they can. Can (Hunter) then go back and report on his own cases? No, he cannot — absolutely not. Not without his client's consent."
"It doesn't matter if the information (he) reports is already in the public domain," said Brennan.
Hunter's lawyer, Michael L. Rigsby, argued for dismissal for exceptional circumstances: "He's passionate. He's bright. He's enthusiastic. … He had a good-faith belief that what he was doing was right."
Hunter testified Tuesday that he did not want to publish the disclaimer because "it's not what I want to say. It cheapens the speech when I have to put in front of it, 'Oh, by the way, this is for advertising.'"
Hunter conceded on cross-examination that one purpose of the blog was marketing and that he had not sought the consent of his clients before posting information about the cases — cases he had won, not lost.
Brennan presented evidence that at least two people represented by Brennan said they did not want their cases posted on his blog after learning they were there.