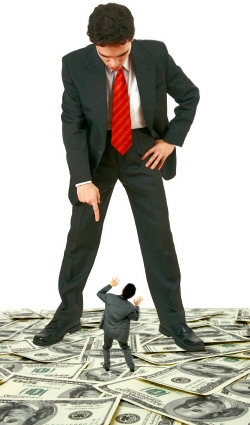 LegalZoom filed for an IPO to raise millions in an effort to crush small law firms. It is capitalizing on consumers' willingness to buy cheap, do-it-yourself forms as opposed to paying a lawyer to do the job right in the first place.
"Solos and small law firms will find that it will be very difficult to compete against LegalZoom with its superior capital resources," warns Richard Granat in his eLawyering Blog. "LegalZoom will, inevitably, put many solos and small law firms out of business as it grows and expands its suite of services."
LegalZoom slams lawyers in small firms on p. 62 of their S-1 filing:
When in need of legal help, small businesses and consumers lack an efficient and reliable way to find high quality, trustworthy attorneys...

Attorneys are frequently unable to predict the time required to address a client's legal matter, sometimes billing thousands of dollars to research a legal issue they have not previously encountered. This can be particularly true of generalist attorneys that offer many disparate legal services to members of their local communities. Unlike attorneys at large global law firms or specialty boutiques who handle high volumes of similar matters and develop expertise in specific domains, generalists can find it difficult to efficiently address a client's particular legal issue due to their lack of specialized expertise.
To me it smells like a play to raise cash from Wall Street to wage war on the little guy.

Richard warns, "LegalZoom is here to stay and will expand its market share as the major provider of the delivery of legal solutions to consumers and small business." He is right. It is time for America's lawyers to take back their profession.
For starters, solos and GPs must learn new online skills, provide legal services more efficiently and start marketing better. You must read Richard's blog post which lists steps that small-firm lawyers can take to be more competitive in this rapidly changing environment.
I recommend you take a look at Richard's DirectLaw web service -- a hosted virtual law firm platform for solos and small law firms that enables them to offer legal services on-line without a large capital investment.
For further reading:
14% of Lawyers Operate a Virtual Law Firm
Elawyering Award Goes to Rosen Divorce Firm
Virtual Law Firm Collects 250 Clients with Fixed Fees