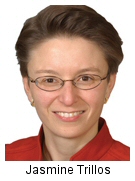 My Australian marketing mate Dan Toombs recorded his new Law Firm Marketing podcast, interviewing Jasmine Trillos Decarie, the Director of Business Development and Marketing at Foley Hoag in Boston. Dan talks with Jasmine about how the firm creates content and smartly syndicates it across multiple, targeted channels.
Click play:

Jasmine's recommends:
Harnessing your lawyer's intellect and writing talent to create content for business development.
Don't have your PR firm tweet for you. Hear the mistake another law firm made this way.
Why the firm's Corporate Responsibility Blog succeeded.
Avoid spewing content into a vacuum, rather, blog to develop new business.
"Foley Hoag lawyers are renowned for being thought leaders," Dan said. "From an online perspective, a number of law firm marketing experts would hold Foley Hoag as a brilliant example of creating compelling content that engages prospective clients. Behind this content and its very smart syndication is Jasmine Trillos Decarie."
Also, I drop in with a reflection on a recent episode of Mad Men.