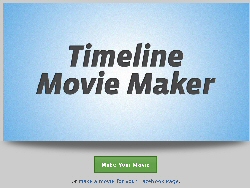 I just picked this up from Jon Accarrino, the social media wizard at Definition6, an online marketing agency in New York:
It's finally here - the release of Timeline Movie Maker for Facebook Pages, allowing law firms to curate customized one minute movies showcasing their most engaged Pages content, strengthening the relationships between lawyers and their Facebook communities.
Timeline Movie Maker was released to users earlier this year where you can create your personal story of your Facebook life in a one minute movie. Now lawyers can experience the same.
With this rollout, additional updates were made to the existing interface for Timeline Movie Maker to improve a user's experience, including the addition of 9 languages, enhanced editor capabilities for adding/replacing photos and videos, and updated text links to share videos with your friends.
To learn more about this, please visit TimelineMovieMaker.com and click on the text "Click here to make a movie for a Facebook Page." Or you can read a step-by-step guide on the Definition6 blog.
John says, "Watch our movie and let us know if you would like any assistance in creating this brand experience for your page."
More about marketing with Facebook:
More Time is Spent on Facebook than Any Other Website
The average Facebook user spent 7 hours and 45 minutes on the site during August 2011 according to The Nielsen Company. It's a marketing gold nugget to know just how closely people attend to Facebook -- because where there are...
Comparatively Little Time Spent on Google+
The picture tells the story where people spend their time on social media. According to comScore, the sites where the most minutes are spent per month: Facebook: six to seven hours - 405 minutes Pinterest (a site used by many...