So what do you think about this trend? Tell me in a comment below.
Over the last three years the relative portion of legal work given to the largest, full-service law firms has declined from 26% of legal fees billed to only 20%. The decline of the 50 law firms in the U.S. with more than 750 lawyers is quantified by new LexisNexis/Counsellink research, Enterprise Legal Management Trends Report.
You can get a copy here. In the chart below, locate the sloping, bright green line.
The decline of Biglaw has been well-documented by The New Republic, Above the Law and The New York Times. Richard Susskind has launched a book-writing career on the topic. But this is the first time I've seen actual statistics.
Another telling statistic is that legal departments are not consolidating with "Largest 50," according to the report. Instead they are sending legal work to the new winners: "Large Enough" firms with 201-500 lawyers.
Three years ago, "Large Enough" firms were responsible for 18% of overall legal billings. In the most recent 12 months, the same firms are now responsible for 22% of legal billings, the report says. (See the red line in the chart below.) An even more dramatic shift is seen in high fee litigation cases -- those matters that generate fees totaling $1 million or more. "Large Enough" firms grew their portion of U.S. high fee work from 22% three years ago to 41% in the trailing 12 months.
Meanwhile, firms with 50 or fewer lawyers are also cleaning up. As shown in the chart below (see the purple line), they are the firms that get the biggest proportion of legal billings -- 30% of it.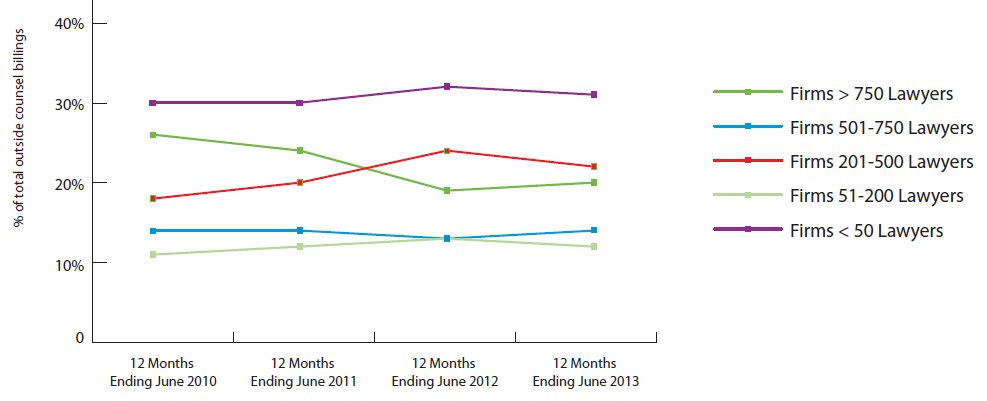 The report represents analysis of a snapshot of data available via the CounselLink Enterprise Legal
Management platform. Currently, the collective stream of data and processed invoices represents more than $10 billion in legal spend, 2 million invoices, and well over 300,000 matters gathered over the past 4 years, with the volume of data available for analysis growing at a rapid pace.
---

Larry Bodine is a journalist, lawyer and business development advisor to law firms. He is currently pursuing a project to publish legal news for consumers in newspapers, TV stations and web sites. For more information, you can reach him at 520.577.9759 and larrybodine.com.