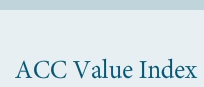 The Association of Corporate Counsel just launched a secret database where in-house lawyers can anonymously rank their law firms on a scale of 1 to 5.
It's like Yelp.com, the popular restaurant-ranking website where customers post their frank and sometimes devastating comments about where they dined. Launched on October 20, 2009, the ACC Value Index has been a year in development and already has 1,000 evaluations, reviewing almost 300 law firms. The difference from Yelp.com is that the law firms have no ability to see the reviews about them. See Information for law firms on the ACC site.

So, it's time to get friendly with your in-house counterparts, and ask them to print out what's being said about your firm. The average overall rating is currently 3.88 with a maximum rating of 5.00 and minimum rating of 1.50, so not many law firms are getting top ratings.
The value Index "is also an instrument to help shape the thinking and dialog between firms and in-house counsel about what constitutes 'good value' in legal services," according to an ACC document.
The one-page evaluation inquires into only 6 areas:
Understands objectives/expectations

Legal expertise

Efficiency/process management

Responsiveness/communication

Predictable cost/budgeting skills

Results delivered/execution.
In-house lawyer can score their law firm 1=poor, 2-fair, 3-good, 4=very good and 5=excellent.
The form also asks "Good value; would use this firm again?" with the options "yes" or "no." In-house lawyers can make and review comments online by visiting http://www.acc.com/valueindex or sending an email to accvalueindex.@acc.com.
Just beneath that in-house lawyers can publish their free-form comments, and put a caption or title on it. Commenters can choose whether to show their full contact information or remain anonymous. In some ways it resembles an easily-gamed rating system, where a profile is created about a lawyer – whether he wants one or not – and a ranking between 1 and 10 is produced.
For the rest of the story visit the LawMarketing Portal at http://bit.ly/49KDpx