Follow @LarryBodine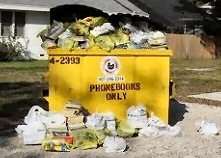 "Mass over-distribution of Yellow Pages has degraded our environment and blighted our neighborhoods," said San Francisco Board of Supervisors President David Chiu, the lead sponsor of a law banning the unsolicited distribution of Yellow Pages.
For years I've been annoyed with the dumping of various yellow pages on my lawn, like so much trash. The delivery people don't even both to hang it on my door knob. I use Google instead as does the rest of the world, and I use the yellow pages only for seat cushions and door stops.
For years I've advised lawyers not to advertise in the money-wasting yellow pages. I think the San Francisco mayor and the Board did lawyers a favor, by demonstrating that the yellow pages are considered to be composting matter. Under the law, which won't go into effect for a year, companies cannot leave the directories at the front doors of residences and businesses without prior permission.
Overall U.S. yellow pages revenue declined 11.8% in 2010. The industry's revenue slide continued in 2010 as the transition from print to digital products continued, according to Simba Information. This marks another year of continuous, multiyear double-digit losses in revenue from the major publishers.
National yellow pages spending is projected to decline an additional 12% to $1.47 billion in 2011. Simba believes that the current environmental challenges are a "ticking time bomb" threatening the industry with increased government-imposed controls and "do not deliver" lists scattered around the 50 states.
Cancel that #*$%! expensive yellow pages ad. This was the clear advice I gave to attendees at our conference "Developing Your Personal Marketing Plan" in Chicago. I repeated the advice at the Chicago Bar Association technology conference. You now have permission to save yourself a small fortune.

Fewer people are reading the Yellow Pages every day. It's last century's marketing. Instead, they are using the Web to find attorneys. Take the money you save and plow it into your online presence. People now use Google to look up phone numbers, addresses and law firms.

Ask yourself -- when was the last time you personally opened that thick, hard-to-read yellow directory? It's been a long time, hasn't it? There are multiple yellow page directories anyway -- which one did you use?

By advertising in the yellow pages, you are doing what thousands of other lawyers are doing. You are simply making yourself more like the competition, not distinguishing yourself. There's no way to break from the clutter -- there are hundreds of lawyer yellow page listings.

Besides, most yellow pages ads are written by their salesmen. That's why they all look the same. Save your budget while you still can. Get out now.