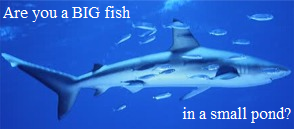 Steven Long provides some advice for swimming with sharks when you are a big attorney in a small pond.
Some clients like to look for attorneys with prestigious addresses or those who are part of a bigger firm. But here in the Dallas area, a lot of clients prefer an attorney who is a big fish in a small pond. Many clients and would-be clients are more interested in working with a local attorney in a small office nearby, rather than one in a large office where they have to travel miles and miles to visit. However, small firms and solo practitioners often lack the marketing dollars and muscle of their big-firm counterparts. Without those, attorneys who may be off the beaten track need to be smart and savvy to stand out and get noticed by people needing legal advice.
Social media can be the equalizer that allows you to get noticed by clients in your neighborhood when you don't work for a big firm — as long as you take the right approaches to maximize marketing time and money.
Read the remainder of his article here.