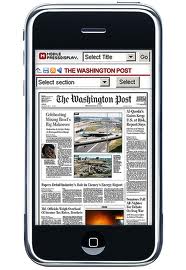 As law firm marketers contemplate their advertising buys, we should be aware that the audience for newspapers and magazines has moved online. For example, before buying a $12,000 full-page ad in a print publication, it makes sense to see if there is a cheaper online option -- which will reach more people.
The Audit Bureau of Circulations recently conducted a survey of print publications—newspapers, magazines and b-to-b titles—to learn how their mobile initiatives are progressing. Publishers' growing mobile know-how, increasing confidence in mobile strategies, maturing product offerings and anticipation for future revenue streams is evident in the results.
Eighty-five percent of survey respondents said they currently have mobile content for smartphones, e-readers or tablet computers, up from 76 percent last year. Newspapers (88%) were most likely to have mobile initiatives in place, followed closely by consumer magazines (83%) and business publications (79%). Publishers cite development and maintenance costs as the primary reason they did not have a mobile presence.
Publishers are gaining confidence in their mobile strategies. Fifty-nine percent of publishers now say their company has a strategy for capitalizing on mobile platforms.
Many publishers believe that e-readers and tablets will be the biggest boon to their business. Seventy-three percent said readers are most likely to read their content on e-readers or tablets compared to 60 percent who said the same thing about smartphones. In Canada, the gap was even wider. Fifty-seven percent said e-readers and tablets had the brightest future compared to just 34 percent for smartphones.
Publishers in the U.S. and Canada are investing in optimized mobile websites. Eighty-one percent of U.S. publishers and 65 percent of Canadian publishers said this was an important part of their strategic plan. Respondents said mobile websites often account for up to 15 percent of their overall website impressions.
Marketing takeaway: when you have a case outcome, completed deal or hot legal news story, conduct at Google search to find the newspapers and magazines to offer the story to.