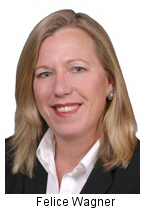 A year ago Sutherland CMO Felice Wagner established a firmwide in-house Business Development Curriculum. As a result, the firm was able to:
Present 22 business development training courses to 549 attendees in one calendar year. The firm has 425 attorneys so many attorneys attended more than one program.
86% of Sutherland attorneys rated their satisfaction with The Curriculum programs as either "very high" or "high."
Because The Curriculum showcased the Client & Practice Development Department as presenters and experts, it has raised the staff's level of influence within the firm.
By taking a do-it-yourself approach the firm estimates it saved $150,000 to boot.
Sutherland's Curriculum is designed to support attorneys in successfully developing, generating, and sustaining client relationships. The scope of Sutherland's Curriculum includes 27 courses which are divided into four core competencies:
Building relationships to build business
Building your profile
Communicating effectively
Serving clients
In each of the four competencies there are three types of courses:
Fundamental Seminars help the attorneys understand the philosophies and guiding principals behind each learning track and give them context for future programs. Course examples include: "Communicating Success" from the Communicating Effectively core competency and "Client Service the Sutherland Way" from the Serving Clients core competency.
Skill Building Workshops help the attorneys take the fundamentals from theory and principle into active practice. Course examples include: "Winning Pitches and RFPs" from the Building Relationships to Build Business core competency and "Why You, Why Now? Identifying and Building Your Niche" from the Building Your Profile core competency.
Customized Training and Coaching Courses are provided when attorneys need to prepare for specific opportunities. Course examples include "Speech Preparation and Practice" from the Building Your Profile core competency and "Conducting Client Satisfaction Interviews" from the Serving Clients core competency.
To read all the details, visit the LawMarketing Portal at www.LawMarketing.com.