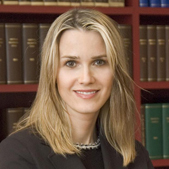 Did you know that advertising, unsolicited newsletters and the legal press are irrelevant in getting legal work from a medium sized business?
However, there are several sure-fire ways to reach decision-makers at these companies, and we'll discuss them during our Webinar next Thursday June 9, "Winning Legal Business from Mid-Cap Companies."
Our featured guest is Silvia Hodges, Ph.D. Professor of Marketing and Management at Fordham Law School. She spent 4 years studying how mid-sized companies find and select law firms and just published a book on the topic: Winning legal Business from Medium-Sized Companies.
In the webinar, I will interview her on how to communicate, market and sell to these excellent, paying clients.

But medium-sized companies are different -- they don't have an internal legal department and typically lack legal expertise. They don't issue RFPs and will consider one or two law firms before making a choice. Often the CEO or the HR director will search for and choose the company law firm - not the purchasing or procurement department.

Among the topics Dr. Hodges will cover are:
The unique two-stage process that mid-size companies use to find a law firm and then select a lawyer.
Why many standard types of marketing - like branding and advertising - are a waste of money to reach mid-size companies.
The communications, marketing and selling techniques that are proven to work to reach the CEO or company executive who makes the hiring decision. A tip: they don't have to justify their decision so being a brand-name firm doesn't matter.
How to position yourself as a lawyer so that mid-cap companies will find you.
How modern Internet applications like blogs, Facebook and Twitter have become important. 85% of executives consider law firm websites important sources of information in their search for lawyers.

Please see the description of Winning Legal Business from Mid-Cap Companies to find out more.
MORE INFO: Program Director Laura Kresich; (Tel) (773) 966-9273 or Lkresich@LawMarketing.com
WEBSITE: http://bit.ly/ilfrRh