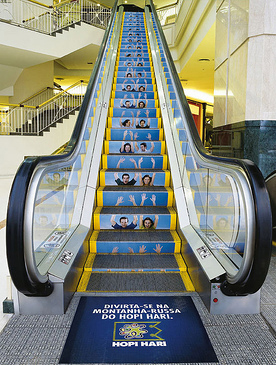 I love it when marketers carry out a promotion that is out of the ordinary. Call it guerrilla marketing -- unconventional marketing intended to get maximum results for minimal resources. Favorites include:
The blog 6 Pins has collected photos of Great examples of Guerrilla Marketing including:
Barbecue ads on the grill covers of storm drains.
A box of 3M security glass holding stacks of cash.
Pictures of thrilled roller-coaster riders displayed on escalator steps for the Hopi Hari amusement park in Brazil.
A Mini Cooper car billboard saying "Cops Hide Here," with an arrow aimed at a hedge of bushes.
A Sopranos TV show bumper sticker on the back of a cab, next to an arm hanging out of the trunk.
And my favorite: cartons of eggs on a baggage claim conveyor belt with the wrapper, "Handled by Virgin Atlantic."
I'd love to see law firms try more guerrilla marketing.