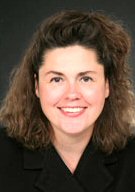 Lorelei Graham is quite clear on what it takes to bring in business: "I don't believe in the file fairy magically delivering work to my desk. Perhaps some IP attorneys can hit a hot area and mine it for business for a long time. But, I haven't been that fortunate.
"Since my early days, I have always seen the law as a business. I started out at a small firm. And it was always clear that we had to be thinking about where our future business was coming from – and be out there in the market finding it. Even early in my career, I put a premium on business development."
Even though she now has joined Miller Thompson, a 450-lawyer firm in Canada, the Originate! 2008 Woman Rainmaker of the Year retains this hunger for business development. She thinks and acts like the entrepreneurial clients that she serves.
Part of this entrepreneurial zeal comes from her family roots. "My parents owned a small manufacturing company when I was growing up. So, I learned the ups and downs of being an entrepreneur at home," she said.
In particular, she learned the value of selling – including persisting in the face of disappointments and continuing to hustle for business. As Lorelei described it,
"My father told me that he had to see 10 prospective customers in order to land one.
The lessons that I learned at home taught me tenacity, determination and persistence. And these are the qualities that make me effective at business development today.
"I am also an extrovert and not afraid to ask for business. And this has paid off as well. But, I know this is difficult for some women attorneys to become comfortable with."

In fact, it was this business drive that led Lorelei to go to law school rather than becoming a bio-chemist (her college field of study). But her college training paid off when she decided to focus on intellectual property law as her specialty.
These days she serves large clients, the technology transfer groups in top universities, serial entrepreneurs and wide range of start-ups.
"I basically work with entrepreneurs and inventors – who are not interested in the IP details and legal mumbo jumbo. ...
See the rest the story for free in the Originate! newsletter at http://www.pbdi.org/Originate/