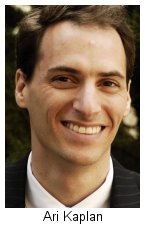 Want to find out the most efficient hunting organization in the world? Or how to find a counterpart to go to market with? Check out Ari Kaplan's interview with me about business development, Twitter and the bright side of the down economy.
Listen to the 4-minute excerpt of our conversation here.
We cover:
"Double-teaming" an association for new business.
What should you say at a new business meeting?
What is the ultimate collaborative network?
How to find new business in a down market and what to look for.
How to use technology to get new files and clients.