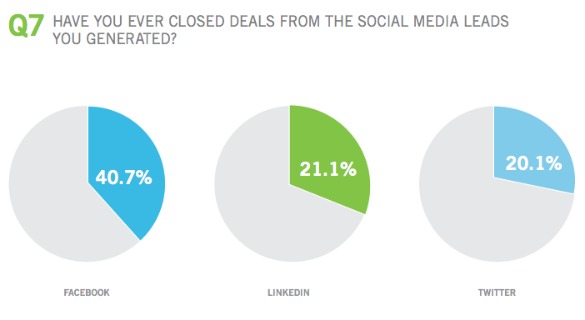 Smart law firms are using social media to generate leads. 55% of marketers have closed deals from social media leads, according to a report from Webmarketing123, "2011 State of Digital Marketing Report."
The November 2011 report says that marketers have had the most success with Facebook, with 40.7% saying they have closed a deal from a Facebook lead.
Roughly one in 5 have also closed a deal from a lead generated on LinkedIn or Twitter. 68.4% of marketers say they have ever generated a lead from a social network, with Facebook (47%) again ahead of LinkedIn (34.8%) and Twitter (33.8%).
"Lead and sales generation activities dominate as the most important objectives for digital marketing campaigns," according to the report, far ahead of other goals such as building brand awareness, generating web traffic or building a community.
68% of marketers have generated leads from at least one of the three major social media platforms. As for spending, "as expected, B2B marketers invest 1/3 of their digital budgets on SEO activities, while B2C marketers invest most heavily in PPC," according to the report.
The results are based on an online survey of 500 US marketing professionals. Webmarketing123 is a digital marketing agency that helps clients convert online visibility into measurable results.