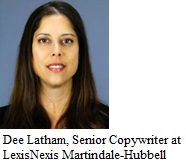 Senior Copywriter for the Law Firm Marketing Solutions group at LexisNexis Martindale-Hubbell, Dee Latham enlightens us how commenting affects our social media presence.
I know what you're thinking: How can other folks' comments really help my blog? Comments or feedback mean that people are reading your blog, which is the purpose. When a blog receives comments from regular posters, it becomes more dynamic and it attracts more visitors. The more visitors it receives, the more perceived value. It's a basic way of gaining readers, highlighting your strengths and ultimately driving more leads to your firm.
There are also things to watch out for, however, such as being mindful of hot-button topics and responding to comments. Take this one as an example: How will the new healthcare laws affect your audience? There are numerous pros and cons for either side, which is exactly what is needed to stir up interest, but really it can only do you harm to respond to posts, especially the negative ones. Why? Once you comment, it can be construed as imparting legal advice in an unregulated way. And the question arises as to whether attorney-client relationships are created. Sure, fresh comments are a way to make the search engines fall in love with your blog to keep its URL ranked high on searches. But don't get caught in the ethical trap of engaging in these types of discussions through blog commenting and social media.
Here are some other tips to help keep your readers engaged:
Ask a question. Leave posts that are open-ended and prompt an answer.
Refine your "blog dialog." Get to know your own "voice"; consistency of tone is key as your readers get more familiar with your writing.
Post often. Keep your content fresh; by not updating your blog with new posts, you may be missing out on opportunities to grow a responsive readership and readers will take you less seriously.
Check your local bar. Are there any disclaimers that need to be included when you post? Your local or state bar can provide tips to help you keep compliant.
And don't forget: The more you nurture your blog, the better it will be for your firm in the long run.