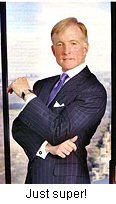 In a scathing review of the Super Lawyers directory, Karen Donovan said the ranking is "the cheesiest example of this phenomenon" in her article on Portfolio.com. I've been saying this for years, see Marketers Laugh at "Super Lawyers"
I've always thought that promoting yourself as a "Super Lawyer" or "Best Lawyer" was pathetic, self-aggrandizing and meaningless. I counsel law firm clients not to hype this designation, because it preys upon lawyer egos to publicly praise themselves, and leads to expensive advertising campaigns. It is also weak, because it meant the only source that said you were any good was a silly directory.
"If the name suggests exclusivity, the actual list is anything but," Donovan wrote. "Basically the way the polling is handled, I have always suggested to folks that any attorney that wants to be a Super Lawyer can be, by virtue of calling a few friends," consultant Micah Buchdahl was quoted as saying. "It's not an exclusive club."
Even some publicists for law firms see the Super Lawyers ad inserts as the worst form of P.R. "It makes you look oily. It's schlocky-the worst kind of vanity on display," said Allan Ripp, who handles media relations for several large law firms.
One lawyer spoke to Donovan on the condition that his name not be used. "I think people are gratified to be recognized at the dinner table or a school function," he said. "It's a popularity contest," he acknowledged, and the fact that his name appears alongside paid ads, "runs the risk of it being confused as being an advertisement."
"It's a tad embarrassing," said Mark S. Edelstein, chair of Morrison & Foerster's real estate financing practice, who made the list of real estate Super Lawyers. "I don't know why anyone would spend their money to get their picture or firm in there. It makes you feel like you are selling toilet paper or something."
William A, Brewer III of the commercial litigation firm Bickel & Brewer said, "the firm gets "zero" business from the ads, but he has noticed an "uptick" in support for the firm's pro bono activities after the ads run. "I think I got a call from an existing client who told me my tie was crooked," he said. "I think he was teasing me."