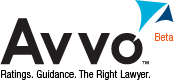 Red alert: The website www.avvo.com has posted online ratings and profiles of 400,000 practicing attorneys in 10 jurisdictions. If you represent consumers, be sure to look up your lawyers to see how you're rated. A v v o covers 140 practice areas and rates lawyers on a scale of 1 to 10 (10=best), based on experience, industry recognition and "trustworthiness" (which will be renamed "professional conduct").
"Choosing the right lawyer is difficult and stressful," said Mark Britton, Avvo CEO and a 15-year attorney who was previously general counsel at Expedia.com. "This is not a decision you want to make based on who bought the biggest Yellow Pages ad. My friends and family automatically come to me for advice and lawyer referrals because I'm an attorney. But even with the resources I have, it's hard to find all the information I need to make a good decision."
My gut tells me that Avvo will give Martindale-Hubbell, Findlaw and the thousands of pay-for-play directories online some real competition.
The site will also be very controversial. Early reviews are mixed:
Jeffrey Forbes, The Client Doctor said, "The consensus is that the quality of the information currently on this site is very spotty at best.

This is based on a number of LMA members who are former lawyers looking up their rating and commenting things like they have such a good rating even though they have not practiced in years. And then they compared this with some well known people in their office with a lesser rating.

In other words, stay tuned to see if the content becomes more dependable, but take any current ratings with a bucket of salt."

See Bob Ambrogi's blog post where he says, "So can the worth of a lawyer be calculated in a numerical score? Call me a skeptic. The problem is that the qualities that make a great lawyer are intangible."
Tim Stanley, the original founder of Findlaw, says in his blog, "Looks good. The focus is on the attorney, not the law firm, and listings are free. It is just the beginning... but very nice :) Good job Avvo!!!"
Headquartered in Seattle and founded in early 2006, Avvo is dedicated to helping consumers better navigate the complex legal industry. A v v o is short for "Avvocato," which means "lawyer" in Italian.
The Avvo Rating is the website's assessment of how well a lawyer could represent a client. The rating is based on a proprietary mathematical model that searches and analyzes public records, lawyer web sites and bar association sites, ferreting out their experience, disciplinary sanctions and professional achievements. The Avvo Rating was developed with input from legal experts, hundreds of lawyers -- and thousands of consumers who were questioned in many focus groups and surveyed online by Ipsos.com.
Continue Reading...