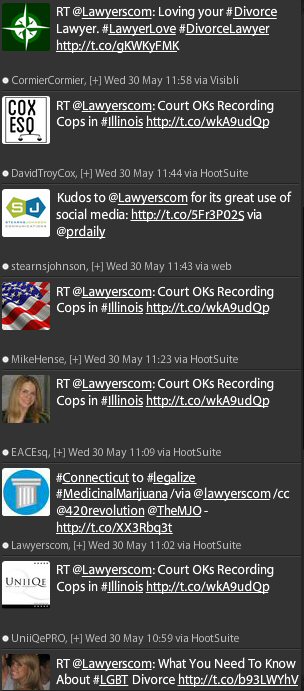 Somewhere in the Twitterverse, a 21-year-old Massachusetts woman who identifies her interests as "sex, drugs, rock n roll" inexplicably found herself facing a legal challenge.

She tweeted, "I NEED A LAWYER IMMEDIATELY."

Enter Lawyers.com, which replied, "Oh no! what area of practice? in #Massachusetts?"

The tweet included a link to a list of Massachusetts law firms on its website.
---
This blog post is an excerpt from Lawyers.com attracts clients through content—and social media smarts from Ragan's PR Daily. Lawyers.com, which I edit, helps hundreds of consumers find lawyers every week. The attorneys writing in the "Ask A Lawyer" section field questions every day about divorce, criminal law, business law, child custody, and labor and employment law.
---
The exchange illustrates how LexisNexis's Lawyers.com uses social media content marketing as a part of its unified marketing strategy. Weaving links through Facebook, Twitter, and YouTube, it drives traffic to a content-heavy website and blog and creates communities on law-related topics for laymen.

The ultimate goal is to bring business to lawyers through the website.
Lawyers.com is a paid listing for attorneys hoping to win clients from among the site's visitors, says Rocco Impreveduto, senior director of consumer marketing for LexisNexis. The site has 1.5 million pages of content for Lawyers.com alone. Last August, Lawyers.com kicked its content generation into high gear by hiring Editor-in-Chief Larry Bodine to head up efforts to create articles and other information.

Bodine's team—a mix of employees and freelancers—produces timely, topical, and relevant content, Impreveduto says. (He declines to specify the size of the team, saying competitors are watching closely.) It produces both in-depth investigations and quick turnarounds on topics such as the Trayvon Martin shooting. It posts articles on consumer news and the legal aspects of gay and lesbian marriage and civil unions.

All this becomes "fodder in social media," Impreveduto says. "It's the kind of stuff that means something to talk about, that interests people, that fosters engagement, that brings them back in and makes them consumers of our site."
Click here to read the rest of the story.